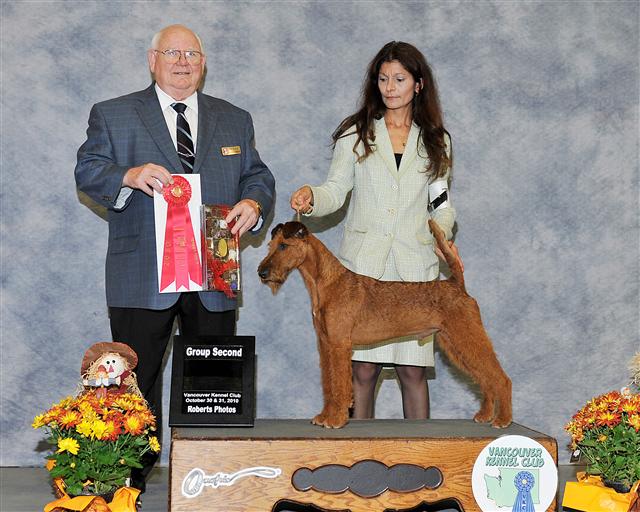 GCH Glenstal's Standing Ovation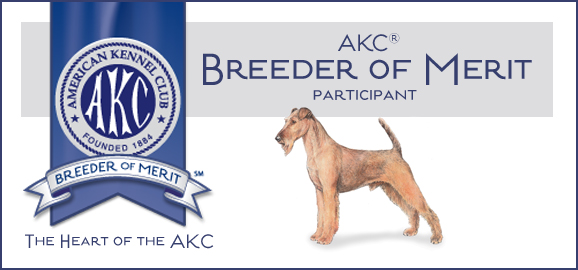 About Us
We are Jessica & Jess Nash. We breed quality purebred Irish Terriers and occasionally have Irish Terrier puppies for show and pet/companion homes. Breeding Irish Terriers is our passion. Our redheads are show dogs but they are our family first and foremost. Our home is theirs. Their needs are taken care of first, then ours. This is not a job for us! Our lives revolve around these beautiful redheads from the moment they enter this world. Our address is Roy, Washington, but we live closer to Eatonville than Roy. We have been blessed to live on 16 pristine acres, fully (chain-link) fenced, 7 feet high. All of our Irish Terriers are raised in our home and they are exercised daily by walking, natural running and utilizing their natural, instinctive, hunting skills, throughout our property, with supervision at all times. Our love for terriers spans over several decades beginning with the Kerry Blue Terrier. We later owned Manchester Terriers and Scottish Terriers. We also had a Long Coat Chihuahua and she lived for 15 years with our redheads. It wasn't until we purchased our first Irish Terrier that we discovered that this was the only breed for us! We are dedicated to preserving this wonderful breed by selectively breeding healthy and great tempered Irish Terriers according to the Breed Standard, and making every effort to place them with the most compatible and loving families. We are breeders/owners/exhibitors/groomers! All of our Irish Terriers are raised in our home with a tremendous amount of love and attention. They are extremely active but not hyper. Puppies are handled by all of us from the moment they are born until they leave our home. They have full run of our home except for one formal room because of my collection of English Tea pots/sets and Irish crystals. They sleep on our beds and our furniture. All of our redheads are interested in hunting anything that comes into our property. We go out and let them run (in our fenced property) and we walk with them every day come rain, snow, sleet or shine and they are game for any weather! If we go anywhere, we all go together in our motor home.

We are members of the Irish Terrier Club of America, Irish Terrier Club of Southern California & AKC Breeders of Merit.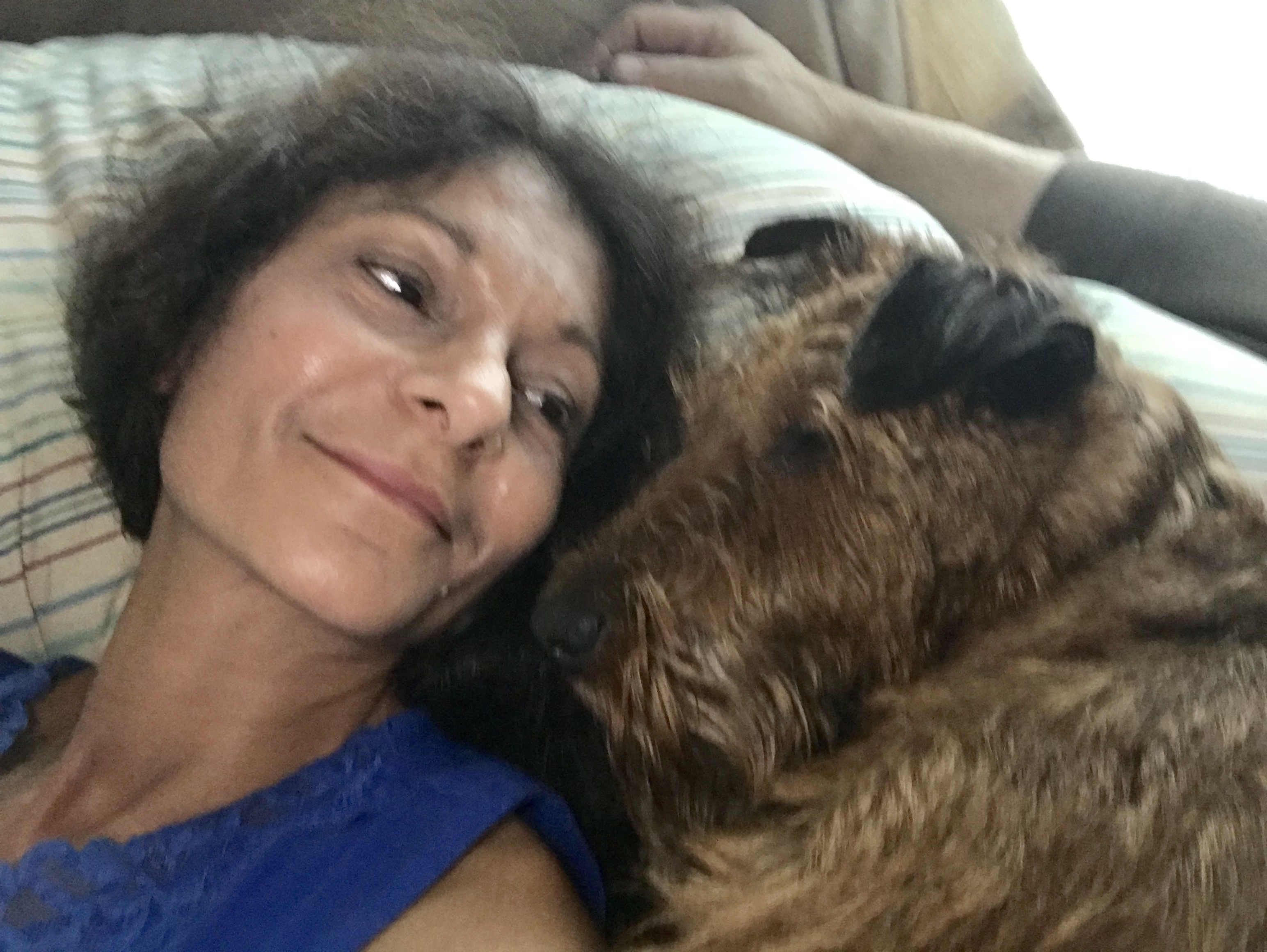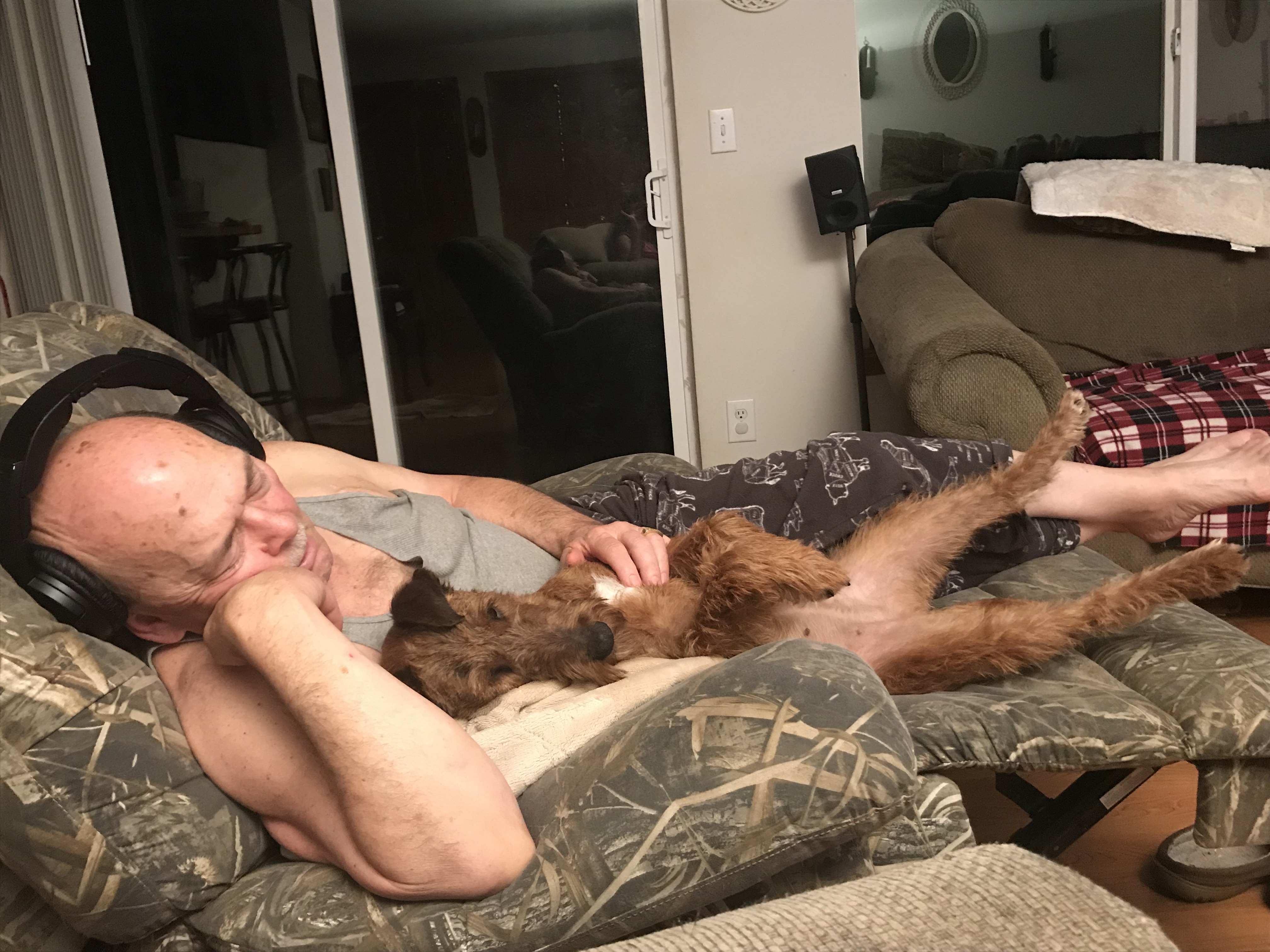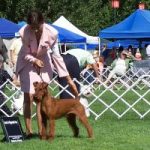 When you get a Glenstal irish terrier, you get:

an excellent bred Irish Terrier that is AKC registered with at least its first set of vaccinations & health examination from our trusted and well respected veterinarian

champion bloodlines from USA, Canada & Europe

the knowledge and experience of an experienced breeder who knows the dogs in the puppy/adult's lineage extremely well

a beautiful temperament

a loving, sweet and well adjusted Irish Terrier family member
support with grooming, ear training, teething, housebreaking and

anything

to do with our Irish Terrier for as long as you have a Glenstal Irish Terrier
You

TRULY

become a member of our huge family

You may reach us via a phone call, a text, an email
You DON'T get JUST A DOG! And we DON'T disappear after cashing the CHEQUE!
A video of our three youngsters you will want to watch: IMG_9363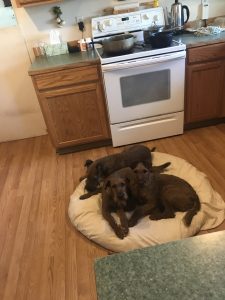 Three youngsters in video above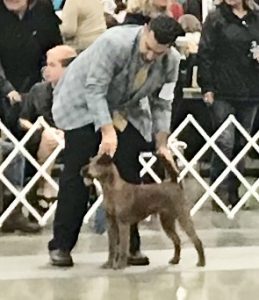 Simon handling Brynda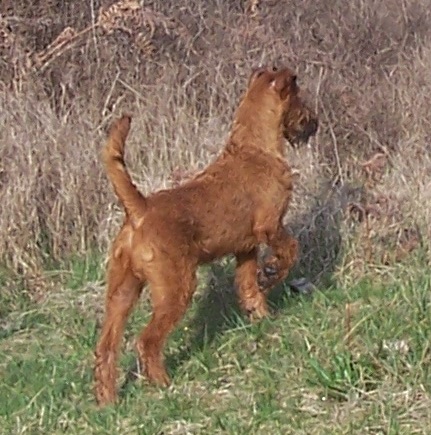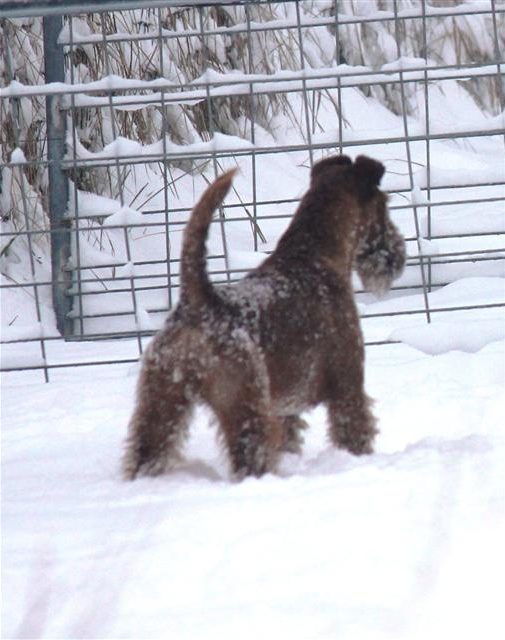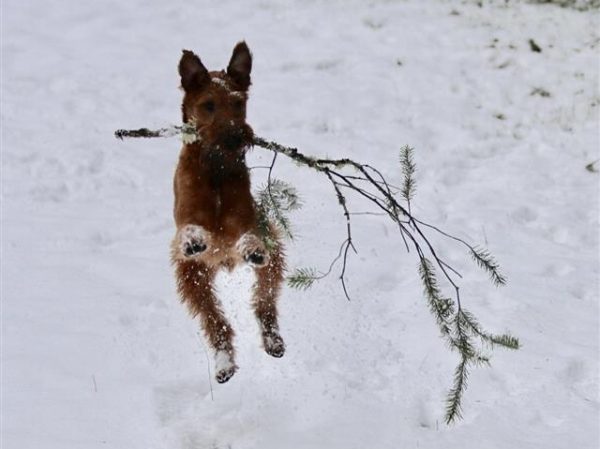 Bohannon 8 months old first snowfall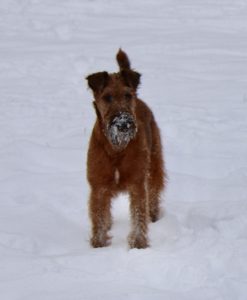 Bohannon 8 months old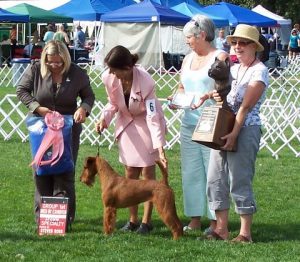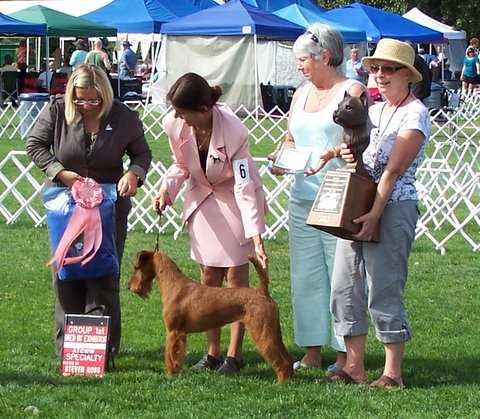 Jessica & Braelyn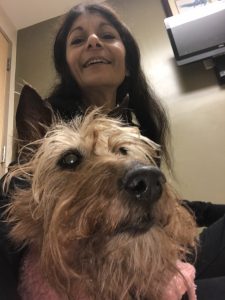 Bronwyn January 4, 2018 Vet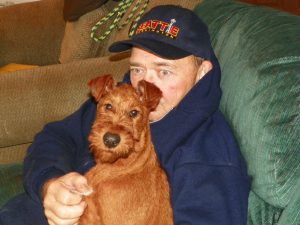 Bingham with Papa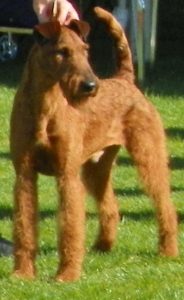 Brannighan at Montgomery 2010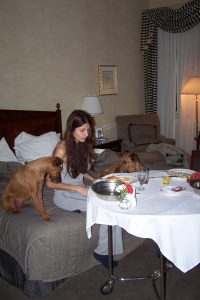 Room service Bronwyn & Braedy Portland
We are members of the Irish Terrier Club of America. Jessica is the Legislative Action Team Regional Director for Washington, Oregon, Idaho & Montana working to protect our rights as dog owners.
We are members of the Irish Terrier Club of Southern California. Jessica is the Editor for the Club's newsletter.
We are American Kennel Club Breeders of Merit. We support the American Kennel Club and register all of our babies before they leave our home.
Do you think you might be interested in showing? Visit American Kennel Club Conformation
What is conformation showing? It is "exhibiting breeding stock." When we show our Irish to their championship, it means that the judges believe that they are good representatives of the Breed, according to the official Breed Standard.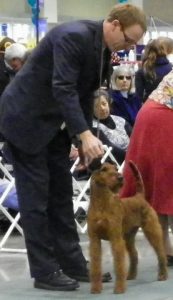 Scott Price handling Brannighan Seattle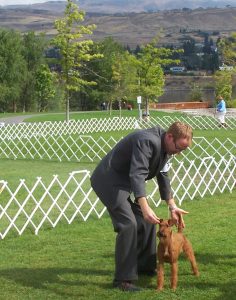 Bryndolyn with Scott Price Wenatchee KC
We love our Irish Terriers
one quick look at this site & you'll be able to see it
We enjoy every aspect of living with our Irish Terriers. The showing part of it is a lot of work, but very rewarding. We groom and train and show our Irish and occasionally we have to have a professional handler.
The best way to describe how our redheads live their lives with us is to say that they are not treated any differently than a 2 legged person. This breed loves to be with people more than they love being with anything else! This makes it easy to integrate them into every aspect of our lives. Fixing a leaky sink? Be sure one of them will be there to help. Getting ready to plant flowers? Be careful because they will help you! Doing the laundry? Only too happy to assist! Making the bed? Mopping the floor? Vacuuming? Watching TV? Yes to all!
We breed for SHOW which means that when you get a pet/companion from this type of breeding strategy, you get an extremely well bred puppy/adult. Does this mean you have to show your Glenstal puppy/adult? NO! We discuss this with you after the application is reviewed. If showing is not what you want, there is absolutely no pressure from us. The reality is that most reputable breeders will keep a puppy or two out of their litter and most if not all others, go to pet/companion homes. For us, breeding and showing should be taken seriously. We do not believe in showing all the puppies out of a litter. We only show the best of the litter, period!
What's the difference between a show puppy and a pet puppy?
most of the time it is very minor
Let's face it, if you are going to buy a quality, purebred puppy, you will pay top dollars for one. Everything in life has gone up in price so why shouldn't a puppy? It should and it has. We believe "you get what you pay for." If you choose to buy a purebred (hopefully) Irish Terrier puppy, please understand that you're probably going to be paying at LEAST $1500.00 USD for a pet/companion puppy. You will pay a little more from us for a puppy, but you will also get more from us.
When we breed a litter and the time has come to evaluate the litter to determine which one(s) are the best to carry on our lines, it often comes down to minor things: one puppy may have a smaller eye, a straighter tail, a longer neck, a longer back, a harder coat, etc., but most times it is rather difficult because the litters are very consistent. So when you get a pet/companion from a Glenstal litter of puppies, you're not getting an inferior puppy!
Some people ask why there are puppies for sale ranging from $600.00 USD to $2500.00 or more. As members of the Irish Terrier Club of America, we do not advertise prices for our puppies. We do not sell a product! We are placing a living, breathing, family member in your home. This requires us to do our due diligence to make sure that this puppy is going to the perfect home and will live there forever. We do not take "orders" for puppies! We are also bound by a code of ethics as members of the ITCA. We don't ask for a deposit until the puppies are born and only when we know there is a puppy that we think will be a perfect match for you and only after we offer you the puppy. We do not place our babies on a first come first served basis. We believe that the best way to place a puppy is to get to know the families very well and get to know the babies equally well and then and only then can a particular puppy be placed with a particular family. We do not believe that because you are the first or second or third or fourth person on our list that you automatically get puppy numbers 1-4. No! We want to make sure that you get the perfect puppy for your situation. We have NEVER had anyone ever say "this puppy is just not right for us." In fact, we have only ever had people say, "this puppy is perfect for us." We want everyone to feel this way.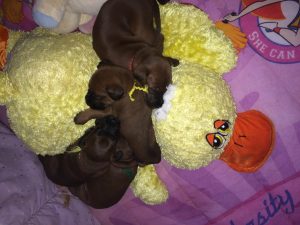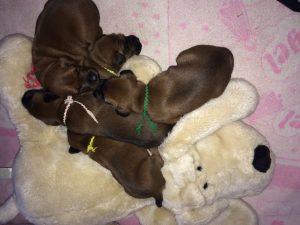 Litter 8/14/2016